The O3 Center has several reception venues for rent that are located close to each other and all accessible to people with reduced mobility. Our prices for a basic rental include tables and chairs according to the number of guests, the set-up and cleaning of the hall. We do not accept other catering services at O3 Center. All meals must be supplied by our onsite catering service. Once again, given the stream of possibilities that is offered to you, we invite you to communicate with us to discuss on the form that will satisfy and fit you best.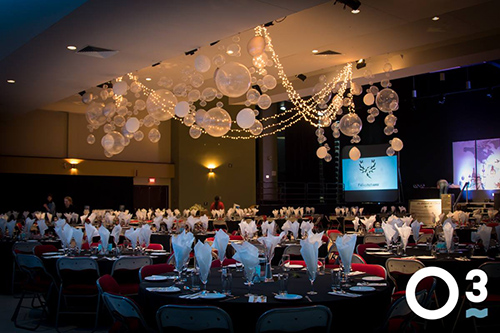 Capacity : 700 persons
The Multifunctional hall distinguishes itself by its versatility and its cutting-edge technology. The hall is equipped with professional sound systems and lighting. The stage is removable and can be placed at various heights, from 2 to 4 feet. The stage space is 50 feet wide by 30 feet deep. The stage is surrounded with three comfortable changing rooms. The hall can welcome up to 700 people distributed in the folding terrace (216 seats) and cushioned chairs for the rest. A cloakroom, a bar service (included) and a ticket office come to complete the possibilities that offers the Multifunctional hall. It is the biggest air-conditioned hall in the region. Besides the holding of shows, the hall can be easily transformed for weddings, banquets or conferences. The Multifunctional hall wears very well its name, because it can be easily adapted to various renting needs.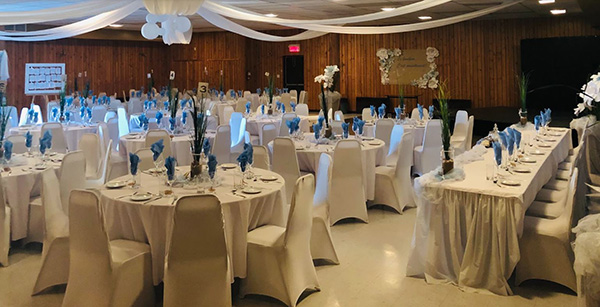 Capacity : 60 to 200 persons
This completely soundproofed hall contains 4 changing rooms, dance floor a stage, a kitchen and a bar. With a height of 10 foot ceilings and a capacity of 60 to 200 people, the Leo-Boucher hall is among the most appreciated of our halls. Its wooden walls confer a rural style appreciated for family celebrations, group meetings, weddings and many other events and gatherings. According to your preferences, round or rectangular tables for 8 people with cushioned chairs can be setup. In fact, the access to a vast turfed ground space is quite perfect for a summer afternoon amongst family and friends and even for an outdoor wedding. The Leo-Boucher is a hall with a wide number of uses which will know how to please you and fit your event.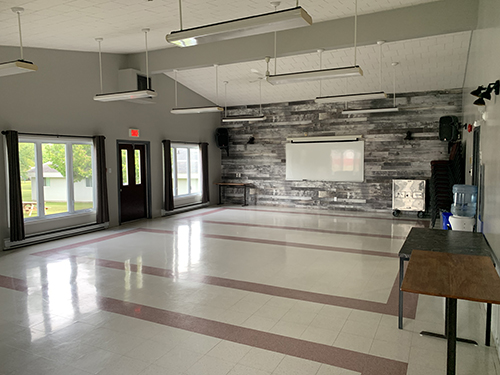 Capacity : 20 to 70 persons
The D Hall is a very multi-purposed hall, but especially very popular thanks to its 10 neighboring hotel rooms. It can welcome from 20 to 70 people and has a cathedral ceiling and has abundant fenestration. It is equipped with rectangular tables for 8 people, with cushioned chairs, a functional kitchen with refrigerator and oven, a whiteboard and a projection screen. We can provide you with several other equipment such as: couches, rocking chairs, sound system, lighting, piano, and even an outdoor camp fire site. This hall is ideal for small groups such as families, corporate and spiritual groups. We invite you to communicate with us! It is with pleasure that we shall accompany you in the organization of your event.
Capacity : 10 to 40 persons
The smallest of our halls, it can welcome from 10 to 40 people and is situated in a building containing 8 hotel rooms. Perfect for family meetings or between friends, the hall also includes access to picnic tables, a space for campfires, horseshoe games and a playground. It is equipped with rectangular tables for 8 people, cushioned chairs and a kitchen area. We can provide you with several other equipment such as: couches, rocking chairs, sound system, lighting, etc… We invite you to contact us for more information on the services that we can offer.